GOOD DAY READERS!
Today I have for you a novelty that will land in foreign bookstores but also international tomorrow. Sorry if I did not write this afternoon but I have not been home and I had to recover everything quickly now. I hope you are there again! Here is a new edition in English :
Title: By a Charm And A Curse
Author: Jamie Questell
Publisher: Entangled: Teen
About By a Charm and a Curse:
Le Grand's Carnival Fantastic isn't like other traveling circuses. It's bound by a charm, held together by a centuries-old curse, that protects its members from ever growing older or getting hurt. Emmaline King is drawn to the circus like a moth to a flame…and unwittingly recruited into its folds by a mysterious teen boy whose kiss is as cold as ice.
Forced to travel through Texas as the new Girl in the Box, Emmaline is completely trapped. Breaking the curse seems like her only chance at freedom, but with no curse, there's no charm, either—dooming everyone who calls the Carnival Fantastic home. Including the boy she's afraid she's falling for. 
Everything—including his life—could end with just one kiss. 
Buylinks: https://entangledpublishing.com/by-a-charm-and-a-curse.html
About Jaime Questell:
JAIME QUESTELL grew up in Houston, Texas, where she escaped the heat and humidity by diving into stacks of Baby Sitter's Club and Sweet Valley High books. She has been a book seller (fair warning: book lovers who become book sellers will give half their paychecks right back to their employers), a professional knitter, a semi-professional baker, and now works as a graphic designer in addition to writing.
Author Links:
Author Website: jaimequestell.com
Author Instagram: https://www.instagram.com/jaimequestell/
Author Twitter: http://www.twitter.com/jaimequestell
Author Goodreads: https://www.goodreads.com/author/show/15396319.Jaime_Questell
Newsletter: http://jaimequestell.com/events/
Blog Tour Giveaway Widget:
http://www.rafflecopter.com/rafl/display/1cb554951221/
Excerpt from By a Charm and a Curse: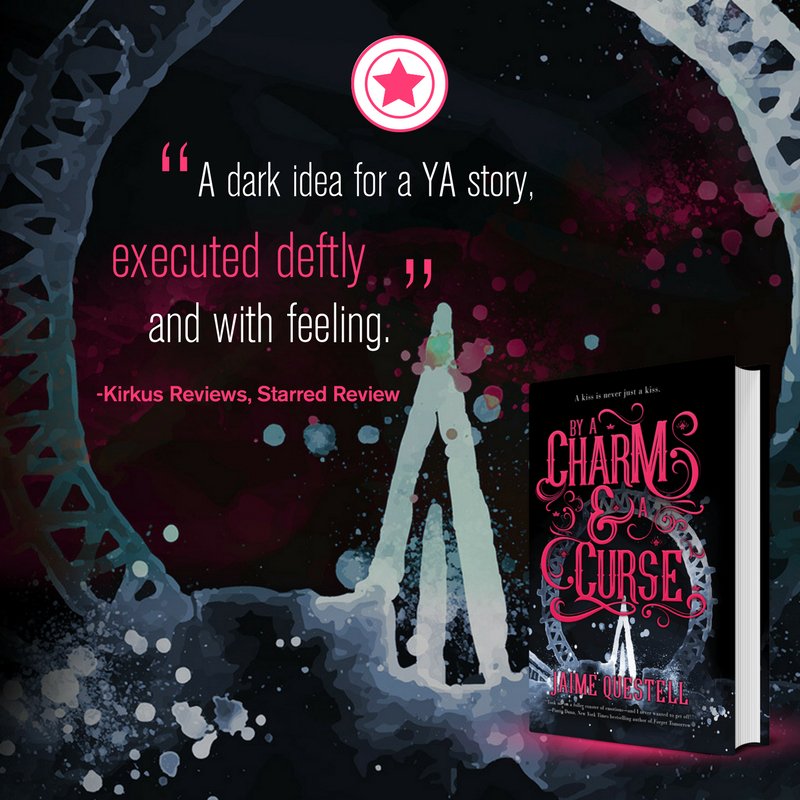 Leslie smiles at the girl with a mixture of pride and tentative hope. "It took us a few days to get Sidney set up somewhere else, and I'm sorry about that. But this wagon belongs to the occupant of the box." Leslie strokes the side of the ladder that leads to the door. "What you're going through is terrible, we know it is, though we can never truly understand. It's a small comfort, but we want you to have a place that's just your own, a place that you can use to escape." A weak, wobbly smile lifts the corners of the girl's mouth as her gaze roves over the outside of the wagon, a shadow of the smile I saw the other night, when she was with her friend. I wonder what it would take to get her to smile for real. "What about Sidney?" "Sidney can make do." Leslie's smile broadens into a grin. "Have you seen the way he's been eating? I wouldn't be surprised to see him waddle out of the cook shack one of these mornings like Templeton the Rat." She dangles a small copper key from the end of a length of faded red ribbon. "It's like I said—the carnival owes the person in the box. This is the least we can do for you in return." The girl's hand shakes as she reaches for the key, and she wraps her slender fingers around it tightly, as though she's afraid of dropping it. I lose sight of her as she steps inside, and all I can do now is hope she likes the wagon. I turn to head home and feel the sickening lurch as my foot lands in a slick patch of mud and whips out from beneath me. I throw out my arm. A flash of white-hot pain flares through my hand, but I manage to keep my footing. I step out of the mud that had nearly sent me sprawling on my ass, unsure as to how I even missed it in the first place. Then my hand begins to throb. A gash runs diagonally across my palm. Blood wells from the wound, filling my cupped hand. The pain sets in, a deep pulsing starting in my palm and radiating up my arm. I glance over at the trailer and see a splash of red smeared along a sharp flap of metal. I must have sliced my hand on that as I tried to grab onto something to keep from slipping. Falling on carnival grounds doesn't happen; the charm sees to that. But my bloodied hand begs to differ.
REVIEW
The story begins from the point of view of Emmaline. Just arrived in town from her father, in Claremore, Oklahoma. Le Grand's Carnival Fantastic is in town and Emmaline and her friend Jules are about to enter and see the beautiful circus waiting for her. Everything is colorful, there are wigs, bright clothes and make-up and really amazing shows. Emmaline is divided by Jules and that's where a mess will happen. Emmaline will know a young boy who will love her, take her to a ferris wheel and kiss her. Emmaline's first kiss is not what she expects: she feels cold and the body stiffens irremediably. A little later, Emmaline will discover that she is the victim of the curse of the circus herself and that she will be the new "Girl in the Box", she can not leave her and will have to give up her family, her father, her brother and her mother.
What will happen to Emmaline? Will Benjamin help the young Emma on her way inside the circus? What will happen to our characters? How will they get rid of the curse and charm of Le Grand's Carnival Fantastic?
"From right now until the minute you pass on the curse, we are linked," Leslie says. "The Carnival thrives when you thrive. It suffers when you suffer. We need you and you need us, and there is nothing that will change that fact".
The plot is well written even if the final part I would have saved myself to keep a little 'more of suspense for the story itself. However, I find it well done for the purposes of reading and curiosity of the volume in question.
I find the cover really fantastic. this is the plot that led me to want to read this book. The color of the title in contrast with the background makes it all attractive and beautiful. I think it's a really beautiful cover, I really like it a lot. Do not you believe it too?
The title is the fulcrum of the whole book. and I think it is well built for the purposes of history, in fact for this reason I was immediately tempted to read this book. You do not like?
In terms of setting we move from Claremore to various places where the circus moves, that is Texas. The era in which this story is set seems modern enough even if it is not precisely specified a period in which it takes place.
I want my home. I want my bed and four walls I've made mine. And if I can't have that, then I want the room in my dad's house with its shittygarage-sale bed and the water stain on the ceiling. I want to hear Dad and Thomas argue about which college team does or doesn't deserve a spot in the playoffs. Hell, right now, I'd walk across a fire pit of Jonah's Legos and smile like a pageant queen when I got to the other side if it meant I could wake up from this nightmare tomorrow.
The characters that we will meet in the reading are many but the two most important are the protagonists themselves of this story. Between the two, the best built is definitely Benjamin but we will also find Emmaline .
Emmaline is a stubborn, impulsive and not at all nice girl. At least this is presented at the beginning then change during the reading, I must admit, becoming pleasant compared to how it was before. she's a girl who loves the circus so much that she finds herself inside as a girl in the box.
Benjamin is a young circus who will find himself immediately fascinated by the young and new girl in the box. He can not help contradicting his mother, so much so as to make the exact opposite of what he was ordered to do. From the beginning I thought it was a really nice and good character.
I don't have the nerve to ask Sidney why he chose me — I kow what he'll say and I don't think my delicate ego can take it. I was alone and I was gullible as hell. In a word – perfect. None of the patrons so far fit that description.
The central pivot is precisely the charm and curse that surround this circus for years. Nothing seems to be able to break it and anyone who works for the circus can not grow old or get hurt. Emmaline will find herself involved in this situation and will have to convince us ?!
The style used was not fluid enough, far from it. Initially I did not bear much Emmaline, it is not an easy to digest type of way of narrating has helped in the course of reading.
There are several things that have not gone down during the reading and I will explain to you step by step.
Emmaline is not a problem about the curse? Is it possible that everything is so normal for you? Do not try to escape and support those who keep you in a place that is not your home. the curse hit her is true but when the police come looking for you you even force yourself to stay "because there is something strange in this curse". But what? What do you say Emmaline? The author here has decided not to identify with the female protagonist.
The beginning is essentially very slow and repetitive. Ok the explanations but nothing happens in the first 30%; the most interesting thing was the arrival of the police to look for Emmaline, but even then everything did not last long, all too easy.
The solution of the story is far too obvious. I can not, I want to make spoilers about it but I found it all very simplistic. Is it possible that everything is so simple? What is reduced all this? That there is not a bit more emphasis, plot and history? possible that this plot and this beautiful cover have deluded me so much?
I was really positive about this book when I was released on Netgalley. Unfortunately it did not convince me as it should and I'm sorry because I had huge expectations about it.
The context of the circus created by Questell was all very nice pity the banality on which revolves around. Unfortunately, and I'm really sorry, the book disappointed me with quite high expectations about it. The fact is still subjective but I do not know if I would advise you to read it. maybe just as light reading and nothing else.
My vote for this book is: 2 and a half whales.
---
What you think? You like it? Do you read it?
See you soon,
Sara©