GOOD MORNING MY BEAUTIFUL READER!
Today I have a BlogTour and Review Party about a book that I love. I thank the publisher, the organizer and Netgalley for allowing me to participate and read this book in exchange for an honest review. [Se volete leggere la recensione in italiano vi basta scorrere giù in fondo e la trovate subito dopo quella in inglese]:
Title: Keeper of the Bees
Author: Meg Kassel
Genre: YA Paranormal
Release Date: September 4, 2018
Genre: Entangled Teen
Summary: "Beauty and the beast like you've never imagined!" —New York Times bestselling author Pintip DunnKEEPER OF THE BEES is a tale of two teens who are both beautiful and beastly, and whose pasts are entangled in surprising and heartbreaking ways.
Dresden is cursed. His chest houses a hive of bees that he can't stop from stinging people with psychosis-inducing venom. His face is a shifting montage of all the people who have died because of those stings. And he has been this way for centuries—since he was eighteen and magic flowed through his homeland, corrupting its people.
He follows harbingers of death, so at least his curse only affects those about to die anyway. But when he arrives in a Midwest town marked for death, he encounters Essie, a seventeen-year-old girl who suffers from debilitating delusions and hallucinations. His bees want to sting her on sight. But Essie doesn't see a monster when she looks at Dresden.
Essie is fascinated and delighted by his changing features. Risking his own life, he holds back his bees and spares her. What starts out as a simple act of mercy ends up unraveling Dresden's solitary life and Essie's tormented one. Their impossible romance might even be powerful enough to unravel a centuries-old curse.
---
REVIEW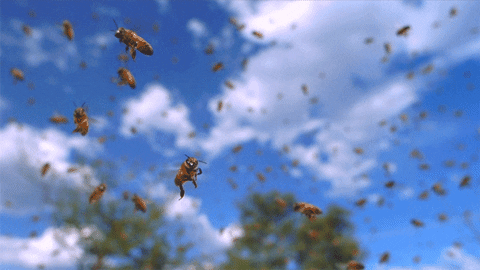 The story begins with the meeting between Dresden and Essie at the park. Dresden is cursed and has inside of bees that want to prick it in sight but, when their eyes meet, Essie – who suffers from degenerative hallucinations – see Dresden for what it is and start chatting with him as if nothing was. He even defines it as pretty. That's where everything begins, with Dresden's act of mercy. A link will be established between them, forbidden to Dresden, which will endanger them and expose them to enormous risks. But Dresden begins to feel a special feeling for Essie and can not separate it in any way, even if it should.
What will happen in Dresden? Do you trust him? What will happen to them? What are they likely to meet both?
"Will I see you again, Dresden?" My throat goes dry and raw and aching. "Do you want to?" However she answers will be excruciating. There will be no recoverin g from this encounter. From the memory of her touch and her wide, trusting eyes. Good gods, from her embrace. She nods. I am doomed. "I'll find you later. I'll…" What? Knock on her door and ask her aunt if I can invite her to the movies? Not in this universe. "I will see you again, Essie. I'm not sure when." "I'll look for you," she says, finally releasing her hold on my T-shirt. "Be careful." And she's gone, disappearing into the woods, back toward the trail.
The cover of the book is beautiful, it struck me as soon as I saw it and is absolutely representative of the story. The title could not be more explanatory than that.  Aesthetically it is perfect, nothing to say. The setting is Concordia, in Missouri, a small town in the United States of America and the era is modern.
The characters that are within this story are mainly two and are the two narrators of this story. They are well built and well placed, the author has left nothing out of this and I am particularly satisfied that despite everything in their problems the two found themselves. Here's what I'll talk about:
Dresden is an Beekeeper and he's cursed. He is a particular human being who hosts a beehive inside his body. He himself becomes a swarm when he has to move from one point to another and is a kind of war machine. The bees look for sustenance and to do so he needs to prick negative or bad people into psychosis. In doing so, it follows the carriers of death so it affects people who would die anyway. His face changes in all the people who died because of those bites and this thing goes on for centuries but when he meets Essie, things change.
Essie is the youngest of her family and is said to suffer from the Wickerton curse, or suffers from debilitating hallucinations and makes it difficult to distinguish reality from fiction. In fact, when the two meet for the first time and see him with his actual form and sees his bees, he believes that the boy is all the fruit of his mind. But it is far from fiction. Dresden is real and she does not see a monster when she looks at it, as it happens with many other people.
The central pivot is the curse that weighs on Dresden that will give a hard time to both along the course of the whole story, even bringing Dresden to protect Essie. Companion of the acclaimed "Black Bird of the Gallows" by the same author. They are both standalone and it is not necessary to read the other if you only want to read this.
The style used is very simple and fluid. The story is based on Dresden's curse and Essie's hallucinations but all this hides a mystery. Their meeting is providential enough to reveal a centuries-old curse. It will be possible? This is for you to find out but the story is interesting and original. It is a story that puts various aspects under a level and poses objective and subjective difficulties for both characters. Essie is certainly better as a character – I adored her for her simplicity and sweetness – despite Dresden has fascinated me a lot. You will not be able to get away from both characters and you will love a villain, I assure you – because here the bad of the situation is Dresden.
Many issues are addressed within this book, not as obvious as it seems: there is mental illness that is one of the points that I think were best treated, the mysteries and the magic, the curse and exceeding their limits , even the impossible, why not.
Meg Kassel has written an intriguing and particular story. A modern and original paranormal and fantastic fable that you will love. A retelling of Beauty and the Beast unique in its kind, forget how you know them because it's all another story.
My vote for this book: 4 star and an half.
---
RECENSIONE IN ITALIANO
La storia ha inizio con l'incontro tra Dresden ed Essi al parco. Dresden è maledetto ed ha dentro di se delle api che vogliono pungerla a vista ma, nel momento in cui i loro sguardi s'incontrano, Essi – che soffre di allucinazioni degenerative – vede Dresden per ciò che è ed inizia a chiacchierare con lui come se niente fosse. Lo definisce persino carino. E' lì che ha inizio tutto, con l'atto di misericordia da parte di Dresden. Si instaurerà fra loro un legame, proibito per Dresden, che li porterà in pericolo e li esporrà a dei rischi enormi. Ma Dresden comincia a provare un sentimento particolare per Essi e non riesce a separarsene in alcun modo, anche se dovrebbe.
Cosa succederà a Dresden? Essi si fida di lui? Cosa succederà loro? A cosa rischiano di andare incontro entrambi?
"Will I see you again, Dresden?" My throat goes dry and raw and aching. "Do you want to?" However she answers will be excruciating. There will be no recoverin g from this encounter. From the memory of her touch and her wide, trusting eyes. Good gods, from her embrace. She nods. I am doomed. "I'll find you later. I'll…" What? Knock on her door and ask her aunt if I can invite her to the movies? Not in this universe. "I will see you again, Essie. I'm not sure when." "I'll look for you," she says, finally releasing her hold on my T-shirt. "Be careful." And she's gone, disappearing into the woods, back toward the trail.
La copertina del libro è stupenda, mi ha colpito non appena l'ho vista ed è assolutamente rappresentativa della storia. Il titolo non poteva essere più esplicativo di così. Inoltre in Italiano significa "Custode delle api" quindi esteticamente è perfetto, nulla da dire. L'ambientazione è Concordia, in Missouri, una piccola cittadina degli Stati Uniti d'america e l'epoca è moderna.
I personaggi che sono all'interno di questa storia sono principalmente due e sono i due narratori di questa storia. Sono ben costruiti e ben piazzati, l'autore su questo non ha tralasciato nulla e sono particolarmente soddisfatta del fatto che nonostante tutto nei loro problemi i due si sono trovati. Ecco che ve ne parlo:
Dresden è un apicoltore ed è maledetto. E' un particolare essere umano che ospita un alveare all'interno del suo corpo. Lui stesso diventa uno sciame quando si deve spostare da un punto all'altro ed è una specie di macchina da guerra. Le api cercano sostentamento nutrendosi di paura e per farlo lui ha bisogno di pungere le persone negative o cattive inducendole alla psicosi. Nel farlo, segue i portatori di morte quindi colpisce persone che morirebbero comunque. La sua faccia muta in tutte le persone che sono morte a causa di quelle punture e questa cosa va avanti da secoli  ma quando incontra Essie, le cose cambiano.
Essie è la più giovane della sua famiglia e si dice che soffra della maledizione dei Wickerton, ovvero soffre di allucinazioni debilitanti e fa difficoltà a distinguere la realtà dalla finzione. Infatti quando i due si incontrano per la prima volta e lo vede con la sua effettiva forma e vede le sue api, crede che il ragazzo è tutto frutto della sua mente. Ma è tutt'altro che finzione. Dresden è reale e lei non vede un mostro quando lo guarda, come invece capita con tante altre persone.
Il perno centrale è la maledizione che grava su Dresden che darà filo da torcere ad entrambi lungo il corso di tutta la storia, portando persino Dresden a proteggere Essie. Compagno dell'acclamato "Black Bird of the Gallows" della stessa autrice. Sono entrambi dei standalone e non è necessaria la lettura dell'altro se volete leggere solo questo. 
Lo stile utilizzato è molto semplice e fluido. La storia si basa sulla maledizione di Dresden e sulle allucinazioni di Essie ma in tutto questo si nasconde un mistero. Il loro incontro è provvidenziale tanto da poter svelare una maledizione vecchia di secoli. Sarà possibile? Questo sta a voi scoprirlo ma la storia è interessante e originale. E' una storia che mette sotto in piano diversi aspetti e pone delle difficoltà oggettive e soggettive ad entrambi i personaggi. Essie è sicuramente migliore come personaggio – l'ho adorata per la sua semplicità e dolcezza – nonostante Dresden mi abbia affascinato non poco. Non riuscirete a staccarvi da entrambi i personaggi e amerete un cattivo, ve lo assicuro – perchè qui il cattivo della situazione è proprio Dresden.
Tante tematiche vengono affrontate all'interno di questo libro, non così scontate come sembra: c'è la malattia mentale che è uno dei punti che secondo me sono stati trattati meglio, i misteri e la magia, la maledizione e il superare i propri limiti, anche l'impossibile, perchè no. Se leggete in inglese di sicuro vi consiglio la lettura.
Meg Kassel ha scritto una storia intrigante e particolare. Una moderna ed originale fiaba  paranormale e fantastica che amerete. Un retelling de La bella e la Bestia unico nel suo genere, dimenticate come li conoscete perchè è tutto un altro discorso.
Il mio voto per questo libro è di: 4 balene e mezzo.
---
Meg Kassel is an author of fantasy and speculative books for young adults. A graduate of Parson's School of Design, she's been creating stories, whether with visuals or words, since childhood. Meg is a New Jersey native who lives in a log house in the Maine woods with her husband and daughter. As a fan of '80s cartoons, Netflix series, and ancient mythology, she has always been fascinated and inspired by the fantastic, the creepy, and the futuristic. She is the 2016 RWA Golden Heart® winner in YA and a double 2018 RITA® finalist for her debut novel, Black Bird of the Gallows.
Website: http://megkassel.com/
Twitter: https://twitter.com/megkassel
Instagram: https://www.instagram.com/seemegwrite/
Facebook: https://www.facebook.com/megkasselauthor
Goodreads: https://www.goodreads.com/author/show/8353652.Meg_Kassel
Amazon: https://www.amazon.com/Meg-
---
GIVEAWAY (US ONLY / SOLO STATI UNITI)
---
Blog Tour Organized By:
YA Bound Book Tours
---
Cosa ne pensate? Fatemi sapere con un commentino!
A presto,
Sara ©